"… If it was true, we would not be talking about anything else…"
Greta Thunberg


The fire-danger is not over yet, but Middle Level Management have again done a great job in reducing fuel-loads and thus the overall risk.
We suspect that our long-term friend in the kitchen, Cappuccino, might have died a hero's death. He was last seen in the evening with an obviously hungry Sylvia rummaging amongst empty egg-shells only about a meter away from where Cappuccinos little house is. The next morning, he was not home and we have not seen him since. We hope he is away on family-business. Scar-Tail must have been hungry too. We spotted her some days later as she helped herself to Mima's eggs. Normally pythons that size would be after larger warm-blooded prey, but snacks can be tempting.
During long winter evenings in the Northern hemisphere and hopefully during rainy days here in Australia we hope you will enjoy the content behind some of the links listed on this page. As the year ends, may the season of Advent allow you time for reflection and may the blessings of Christmas be with you all and with your loved ones.
Greetings from Kachana
---
Photos of the Month
---
News & Views
Mother nature continues to be our primary teacher, but this month we share links to others who help shape our views from spiritual to practical levels:
---
Link of the Month
Uncommon good-sense explanations of climate challenges, why we have them and what realistic options remain. Walter Jehne discusses the dilemma that Greta and so many others sense, but he does so in a context that would allow for individual and collective effective action.
Nature has designed, tested and demonstrated the templates we need.
Many of the practical solutions remain out there waiting for us to engage!
One of the most valuable tools Nature has already provided:
'Mobile Solar-Powered Carbon-Sequestrating Biodigesters'
Putting such tools to effective use requires low-tech high-skill techniques.
(Relevant skills and techniques can be taught, learnt and improved on.)
CAVEAT:
Effective action requires both understanding as well as support from community and political levels.
Listen to Walter:
The Soil Carbon Sponge, Climate Solutions and Healthy Water Cycles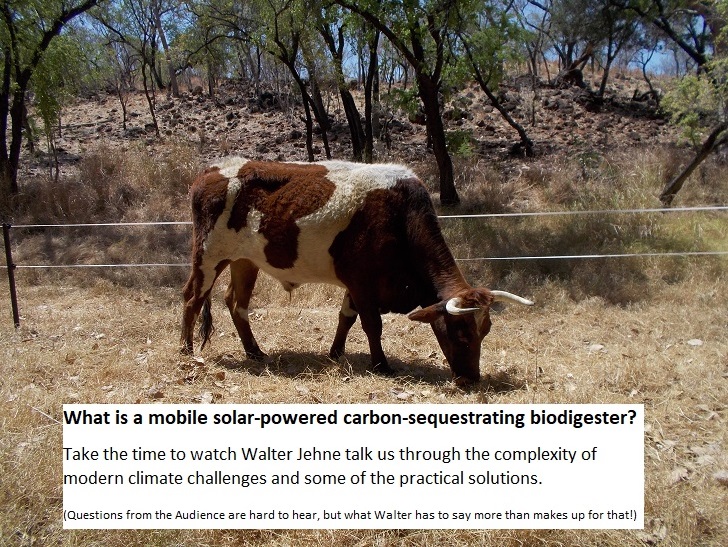 ---