"Live your life in such a way that it makes no sense unless God exists."
Cardinal Suhard 1874-1949

Hello, again all you good People!
February flew past us and with 359 mm of rainfall was our wettest month since January 2018. The leap-year played its part: 130 mm rainfall was registered on 29th February!
Nature is now fully awake. The days provided good growing weather and at night we are entertained by frog-concerts. The creeks are all flowing again and water is soaking into the ground. With abundant green grass Middle Level Management is happily engaged in meaningful activity.  
We hope you enjoy this month's sample of photos and that March is a good month for you all.
---
Photos of the Month
---
News & Views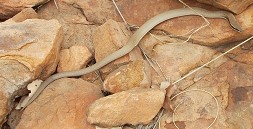 Paul kindly informs us that it is actually a pygopod (aka legless gecko): Burton's snake lizard (aka Lialis burtonis). – Thank you Paul!
---
Link of the Month
"Say what you mean, so you can find out what you mean. Act out what you say, so you can find out what happens. Then pay attention. Note your errors. Articulate them. Strive to correct them.
"That is how you discover meaning in your life and protect yourself from tragedy. How could it be otherwise?" 
Jordan Peterson
---